Ingersley Vale lies on the River Dean between Bollington and Rainow.  By car, it is only accessible from Bollington, though most of it lies within Rainow Parish.  A walk on foot, however, is rewarded with stunning views, waterfalls and a chance to see industrial archaeology indelibly marked on the landscape.
Starting out on Sugar Lane and heading towards Bollington, the path leads through Hough Hole Farm, and skirts round a reservoir, to the site of Hough Hole Mill.  Demolished in the 1940's, this was originally built in 1803 as a cotton spinning mill.  The building was painted white, which prompted the local nickname, "The White Shop" which managed to make it on to some maps.
With thanks to Cheshire Local History Association
The current bridge over the river replaced a much older one, which is now a picturesque ruin.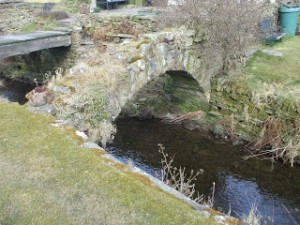 Climbing the hill and walking along below the Saddle of Kerridge, plenty of evidence can be seen of the areas coal mining past,scarring where extraction has taken place, and evidence of access tracks, zigzagging across the hillside. The coal would have been mined by means of simple bell pits, as some outcrops are close to the surface.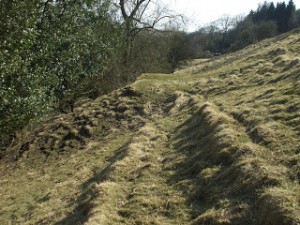 Descending into Waulkmill Wood, the path is lined with huge slabs of Kerridge Stone.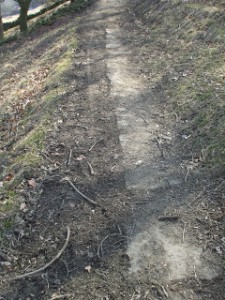 Waulkmill Farm takes it's name from the Waulk/Walk or Fulling Mill which is marked on the earliest known Rainow map, and was tenanted in 1611 by Rauf Thorley.  The term 'fulling' refers to a process in woollen clothmaking, where the cloth is cleaned and strengthened by matting the fibres together.
Here the river level drops quite dramatically over another weir and rocky ledge.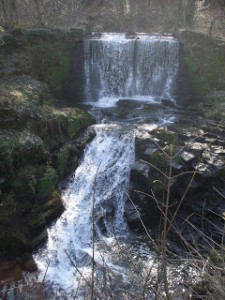 Pressing on towards Bollington, you cannot miss the massive crumbling remains of Ingersley Vale Mill.  Built around 1803, by Edward Collier as a cotton spinning mill, it probably replaced an earlier structure.  It appears that later extensions and additions were made in 1809.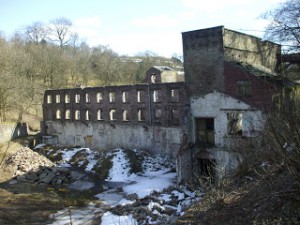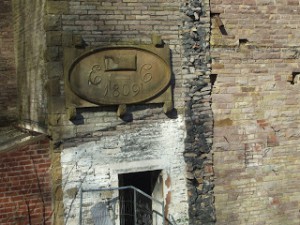 Water would be brought to the mill from Clough Pool above Waulkmill Farm along a hill side leat, over the road and into the wheelhouse, shown on the left of the fence below.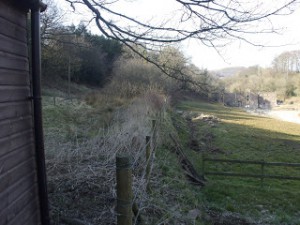 This turned two water wheels in the mill, one above the other, the upper wheel 22 ft in diameter, the lower, 32ft.
After it's use as a cotton spinning mill, the building was later used as the premises for a calico printers, in the 1840's and in 1874, the building is listed as being occupied by Anthony Scott and Co.  dyers and yarn polishers.  By 1878, the King family moved in and the building was used until 1929, as a Bleaching and Finishing works.